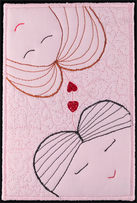 ~Heart 2 Heart Sessions~

During these sessions, there will be a combination of Life Coaching, Intuitive Counseling, Energy, Homework, Looking Backward, Looking Forward, Giggling, Crying, Hugs, Crystals, Art, and Clarity...not all each time and not always in that order hehe <3

We will work together to find your optimal way to a happier and fulfilled life. These sessions are for those times when you feel a little unsure of what your next steps should be and need some guidance to get you moving in a direction that feels good to you. These sessions are also for times you are feeling stuck with a situation mentally, spiritually, emotionally... These sessions are for just all of life actually haha! :-D

At times, there are even things not on that list that we work with. Again, this is about "you." The ultimate goal is to give you a healthier view of yourself and your present situation and your life. Not only will this benefit you, but will benefit your loved-ones, friends and those with whom you come in contact. This will allow you to be a positive influence and allow you to make a difference in the world.

​Let's find out how to achieve what you truly desire from life, and we will work to develop a plan to keep you motivated, moving forward, and emotionally centered. If you ever just need someone to talk to, I'm here for you...heart to heart <3

Sessions are available in person and by phone.

Rates:
30 minutes: $40
45 Minutes: $60
60 minutes: $80
75 minutes $100
90 minutes $120

As an "Ordained Minister of Well-Being," I offer counsel to all. ​
***Coaching and counseling services are not a replacement for professional counseling.





Contact Margo: 317-835-5506 Margo@GigglingGuru.com

---